After the end of each ride, you will receive an end of ride receipt that includes the Sales Tax/VAT amount for each ride and the total amount. If you need to request an invoice , you can do so within the app.
Please follow the instructions below:
Note: Step 1 and 2 are optional if you would like more detailed information about yourself to show up on the invoice. Please make sure the phone language you prefer your invoice to be in is updated before taking your ride.
Navigate to the Settings tab of the app
Update "tax information" with your personal information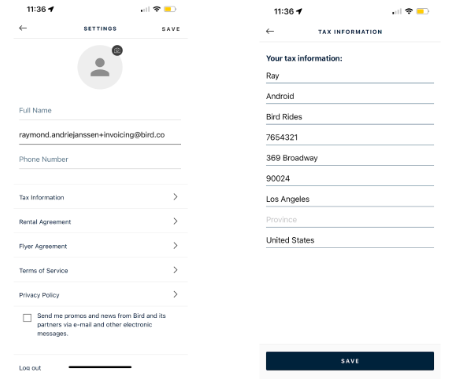 Navigate to "Ride History" tab of your app, select the specific ride you want an invoice for and click "Download invoice"
A PDF version of your invoice will be available to download
If you need an invoice for your Bird + or Ride Pass purchase please reach out to support by clicking the 'Submit a request/issue' link below and fill out the form related to your request. NOTE: Currently, we are not able to issue manual invoices for rides outside of Europe. Support can only issue invoices for Bird + and Ride Pass purchases. All other invoice requests must go through your Bird app.