Below are some topics to help you learn more about how the Bike & Scoot to Transit Program works with Bird. The Bike & Scoot to Transit is a pilot program that is currently limited to Seattle.
What benefits can I earn, and how do I get them?
$8 discount on qualifying trips
Each time you complete a qualifying trip*, you'll automatically receive a discount of up to $8 applied to your current ride at ride end. You will see this discount reflected on your in-app receipt at ride end and on an email receipt when your total trip cost with the discount applied is more than $0. This is a single use discount that cannot be used for future rides.
Free set of transit tickets emailed once/week when you took a qualifying ride that week
Every week that you complete at least one qualifying trip with Bird, you'll receive an email from us (noreply@bird.co) containing one set of links for free transit tickets on the

Transit Go Ticket

app.** Accepting a free ticket unlocks opportunities to earn Transit Go Rewards points on the Transit Go Ticket app, which can be redeemed for transit tickets as well as credits for bike-share and scooter-share services.
*To take a qualifying trip, rent a Bird scooter, and end your trip within the borders of the areas shown in the map here.
** When you click on the free ticket link, you will be redirected to the Transit GO Ticket app.
Where do I need to park my Bird to qualify for the benefits?
You need to park at a qualifying transit hub to qualify for a discount. These areas are displayed on the pilot map, and also denoted on your Bird map with a Bird Sky Blue shade (See image below).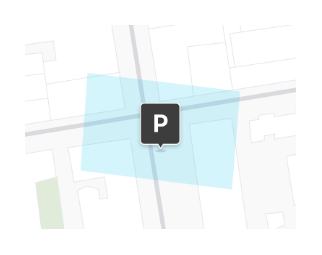 Please park at designated parking areas at light rail stations, marked with a "P" symbol.
How long do I have to use my benefits?
The $8 discount can only be used on your current ride. If the cost of your ride is less than $8 the remaining amount will expire immediately.
All transit tickets distributed through this pilot expire March 31, 2023.
Is this program available everywhere?
No. The program is only available in Seattle, Washington
Support
Bird offers support 24 hours a day, 7 days a week via our Help Center or at the address hello@bird.co.