(turn on subtitles for additional languages)
The last step before you get paid for Charging is releasing your fully-charged Birds. When you release Birds into a Nest at 100% battery between 4:00 AM and 7:00 AM, you will be paid the full quoted price for each Bird. Any Birds released later than 7:00 AM, or with less than 98% battery, are at risk for a reduced payout. Should you hold onto a Bird for longer than 24 hours, it may disappear from your MY TASKS view and may be removed from your earnings completely. Same-day payments will only be available for Birds released before 7:00AM the morning after charging. Birds that are released after 7:00AM will be paid out the following business day and may be subject to penalties of up to 50%.
To start, tap RELEASE BIRDS in the menu.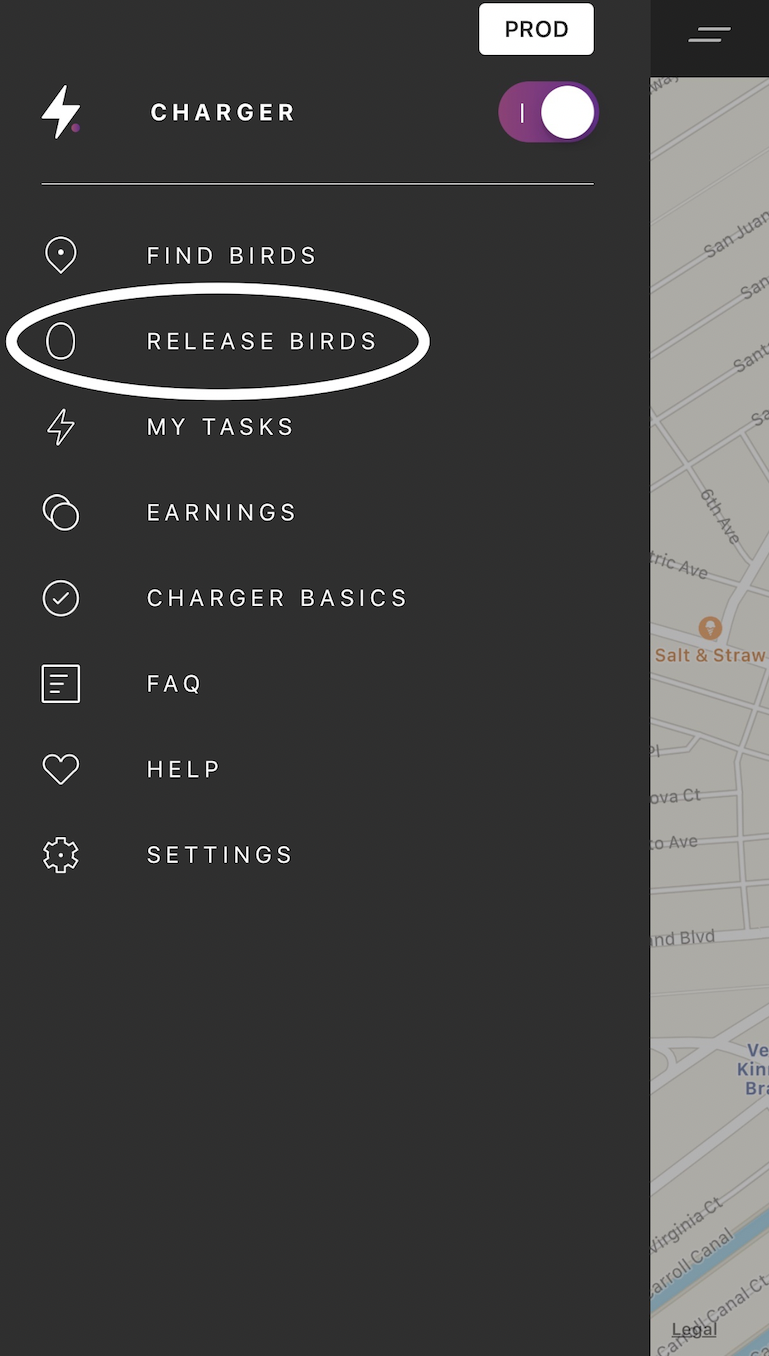 You'll see a map with circular icons, each containing a number. The icons mark the locations of Nests and the numbers represent the number of Birds available to be dropped in each specific Nest.



What's a Nest?
A Nest is a designated drop-off spot for you to release your Birds. Nests are in locations that ensure Birds are easily accessible to Riders.
It's critical that Nests never block pedestrian right-of-way and/or any access points (doors, ramps, stairs, gates, etc.).
The number in the Nest icon indicates the number of Birds that can be released. Once a Nest is full, it will no longer appear on the map.


Selecting a Nest
When you've selected a Nest, tap its icon. Three options will appear: CLAIM NEST, NAVIGATE TO NEST, and MORE DETAILS.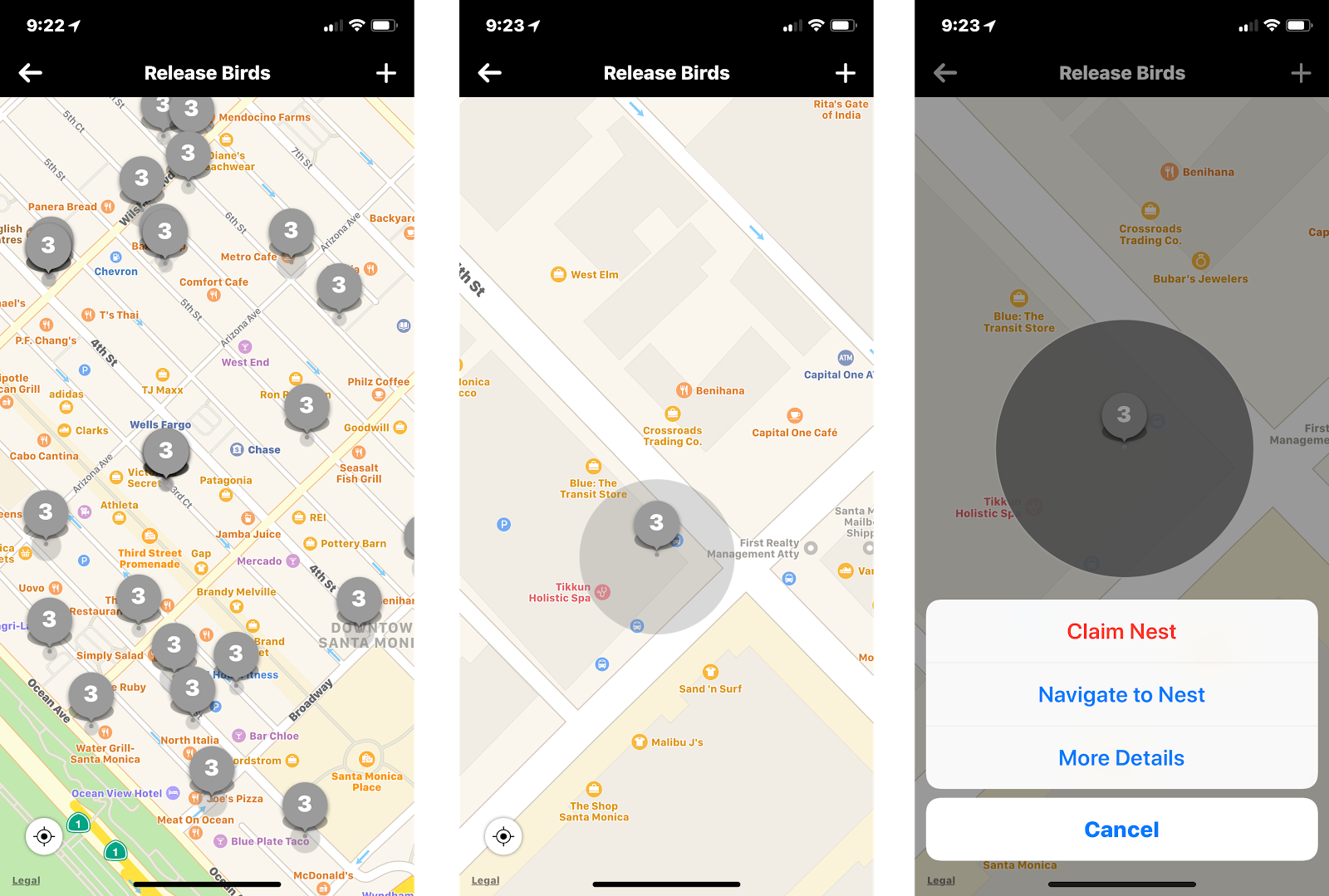 Claim Nest
Tapping CLAIM NEST will reserve that Nest for you for the next 30 minutes. No other Charger can see or release at that Nest. You may only claim one Nest at a time.
 
Navigate to Nest
To get to the Nest, tap NAVIGATE and the app will prompt you to open your preferred navigation application (e.g. Apple Maps, Google Maps, Waze, etc.).



Nest Details
Once you've arrived at the Nest, tap MORE DETAILS. You'll see a picture of the exact Nest location, the street address of the Nest, and notes describing any directions for releasing your Birds at that Nest. 
Place your Birds exactly as they appear in the photo.  Once they're positioned, tap RELEASE.
 
Releasing Birds: Do's and Don'ts
Do's

Avoid dropping Birds anywhere blocking the public right of way: pavements, drives, and entrances

Drop Birds close to the kerb perpendicular to the street if the pavement is wide enough for pedestrian access

If there is not enough space on the kerbside, drop Birds parallel to the street to avoid blocking pavements
Drop on dirt as long as the terrain is even, and won't cause Birds to tip over

Drop on manhole coverings if pavements are narrow

Park neatly, lining up all Birds facing the same direction with the handlebars turned to the left
Don'ts

Block pavements, impeding pedestrian right of way

Block private ramps, drives, or car parks

Block fire hydrants




Block any disability access areas, including disabled parking and blue kerbs

Drop Birds on uneven terrain, causing Birds to tip over

Drop Birds messily
Once you've parked your Birds, step back about 10-20 feet away from the Nest and take a picture of your Birds so they can be reviewed. The photo should be vertical to include all Birds as well as the surrounding environment.
If you would like to report a bad Nest location, please message HELP in-app.
*Charger Pro-Tip*
You can only Release when you are within a 32-foot radius of the Nest.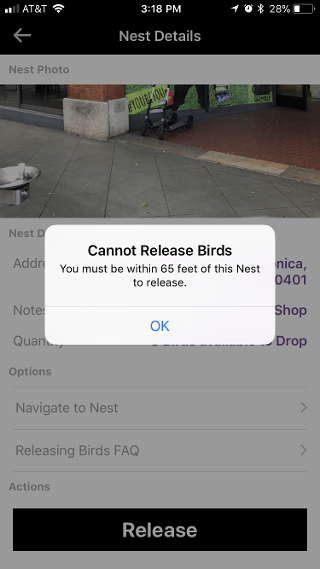 Selecting Birds to Release
Tap RELEASE to select the Birds you'd like to drop off. After selecting the Birds, tap RELEASE in the top right corner of your screen.



Photo Confirmation
The last step of the release process is taking a picture of your Birds in the Nest. Please make sure the photo shows all Birds currently in the Nest. As soon as the photo has uploaded, you're officially done!
As long as you've released your Birds before 7:00 AM the morning after charging, you'll be paid the same day. Birds that are released after 7:00 AM will be payed out the following business day and may be subject to penalties of up to 50%.