Welcome to the Bird Flyer program!

Here's an in-depth tutorial on how to start earning and completing tasks right away.

As a Level 1 Flyer, you won't need any special equipment, and you'll be able to complete the following task types: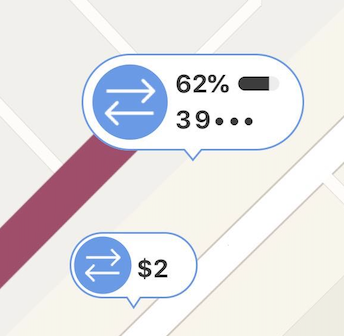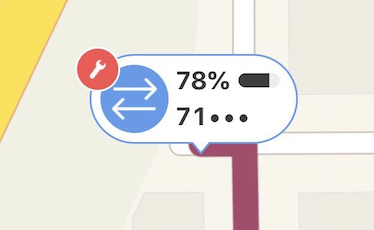 Complete tasks frequently to reach Level 2 and Level 3 to gain access to more task types.

How to find vehicles:



Finding tasks

First, enable Flyer mode in your app menu, then use the Find Birds map to see available tasks. Any tasks you see on your map are available for you to capture.

Task filters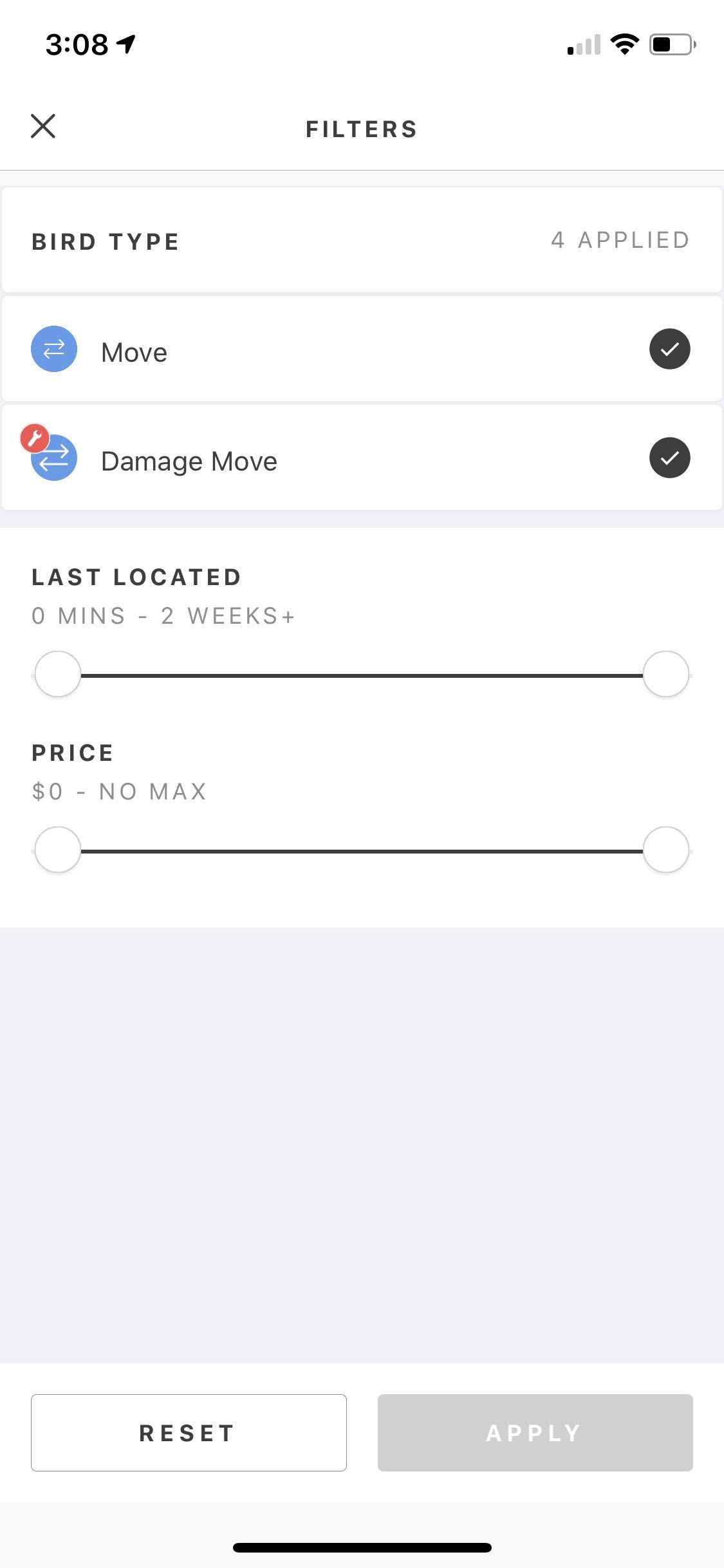 You can use map filters to help search for specific vehicles based on these factors:

1. Vehicle Type: The type of task.
2. Last Ridden: The last time this vehicle was scanned for a ride.
3. Last Located: The last time this vehicle's location was updated.
4. Price: The payout amount for performing the assigned task.

If you're having trouble locating Birds, try adjusting your filters to show vehicles that were recently ridden or located.

Selecting a vehicle

To view information about a particular vehicle, you can tap the icon. A white banner will appear at the top of the screen, and the icon will expand with more details.

Banner details

Ridden: When the vehicles were last ridden.
Located: The last time the vehicle sent location data. It is possible that this information is no longer accurate if it is more than six hours old.
Price: How much you can earn if you charge the vehicle to 100% and properly release it to a nest by the listed due time.

Icon details

The task type
The current battery percentage
The first half of the vehicle ID, which is a unique alphanumeric code

For more information, check out our article on finding Birds.

How to move vehicles.



Move tasks are the fastest and simplest way to make money and don't require any special equipment. Simply relocate the vehicle to a nearby nest (usually a short distance) so they're in prime position for riders.

To complete your move task, tap the Capture button on your Find Birds map, and scan the vehicle's QR code to capture. To see if your vehicle has been successfully captured, check your My Tasks list. Once the vehicle is captured, transport it safely to the nest.

If you come across a vehicle but are unable to capture it, it's most likely not available for moving. To make sure you're capturing the correct vehicle, double-check the vehicle ID on the pin in your map, and compare it with the first two characters of the QR code on the vehicle.

Check out these articles for more on capturing and moving vehicles.

How to release vehicles.

In order to release your vehicle, you'll need to take it to a nest. Move tasks should be released at rider nests, and damage move tasks should be released at damage nests, indicated by a red wrench symbol.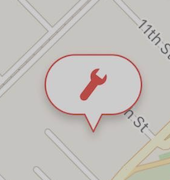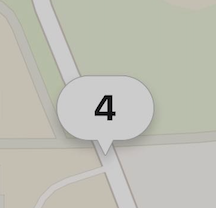 What is a nest?

A nest is a designated release spot for vehicles. Nests are in locations that ensure vehicles are easily accessible to riders.

It's critical that nests never block pedestrian right-of-way and/or any access points (i.e. doors, ramps, stairs, gates, etc.).

To find a nest, select the Release Birds option in your menu. You'll see a map with circular icons, each containing a number. The icons mark the locations of nests, and the numbers represent the number of vehicles that can be released in each specific nest. Once a nest is full, it will no longer appear on the map.

When you've selected a nest, tap its icon. Three options will appear: Navigate to Nest, Nests Details, and Release.

Claim a nest

You can claim a nest by tapping the nest on the map and selecting Claim Nest in the app, which will reserve a nest for 30 minutes. If vehicles are not released at the nest location after 30 minutes, it will expire and reappear on the Release Birds map for others to claim.

Navigate to a nest

To get to the nest, tap Navigate, and the app will prompt you to open your preferred navigation app (e.g. Apple Maps, Google Maps, Waze, etc.).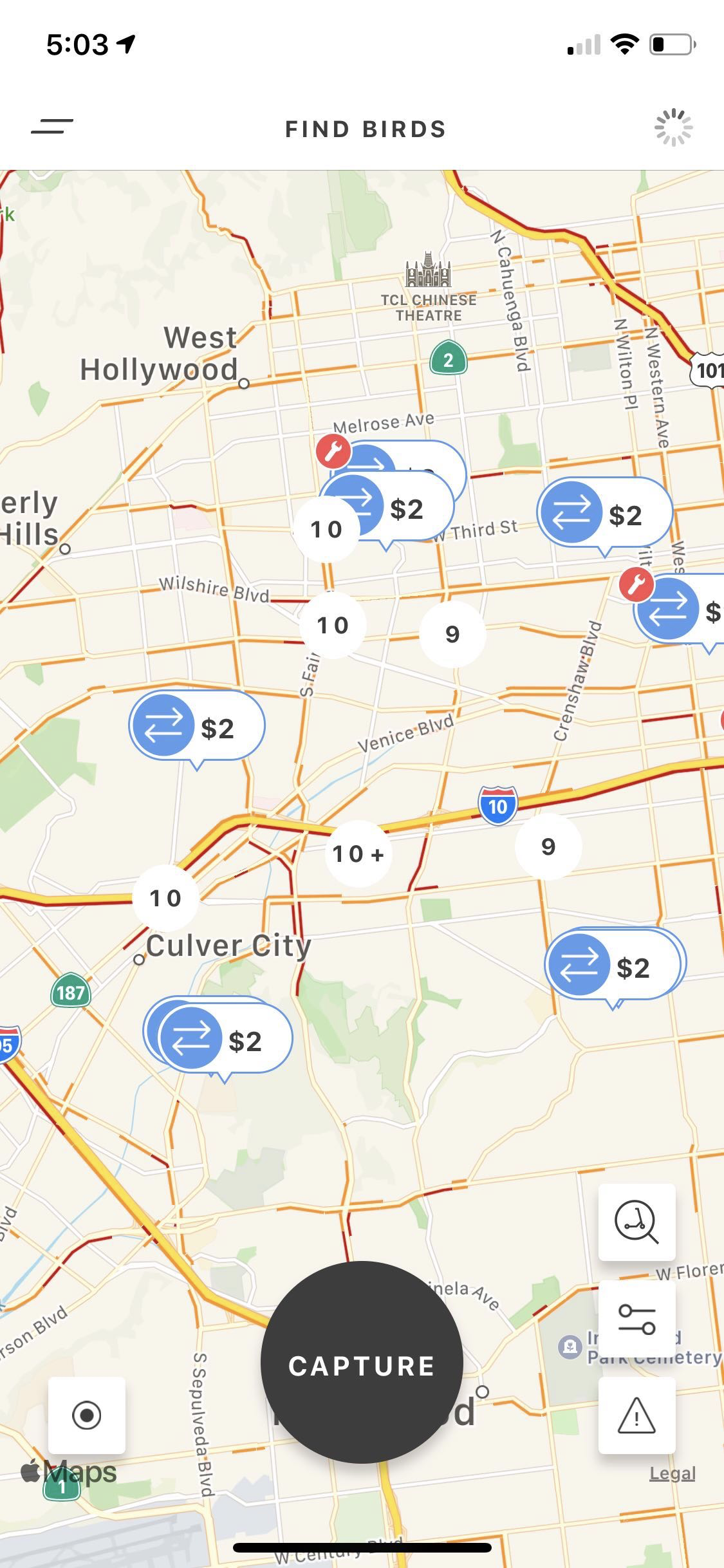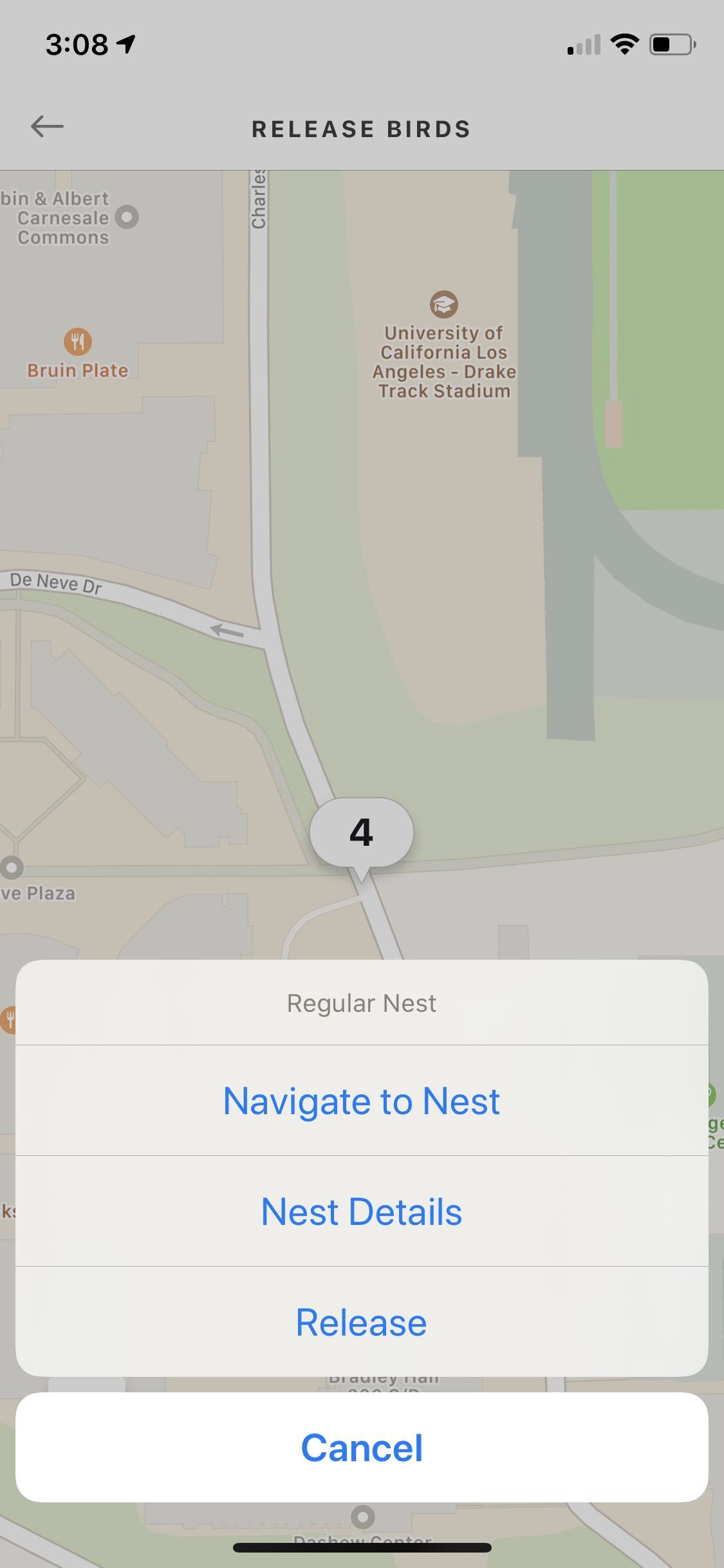 Nest details

Once you arrive at the nest, tap More Details. You'll see a picture of the exact nest location, the street address of the nest, and notes describing any directions for releasing your vehicles at that nest.

Place your vehicles exactly as they appear in the photo. Once they're positioned, tap Release to scan the vehicles you'd like to release. After selecting the vehicles, tap Release in the top right corner of your screen.

Photo confirmation

The last step of the release process is taking a picture of your vehicles in the nest. Please make sure the photo shows all vehicles currently in the nest. As soon as the photo has uploaded, your task is complete.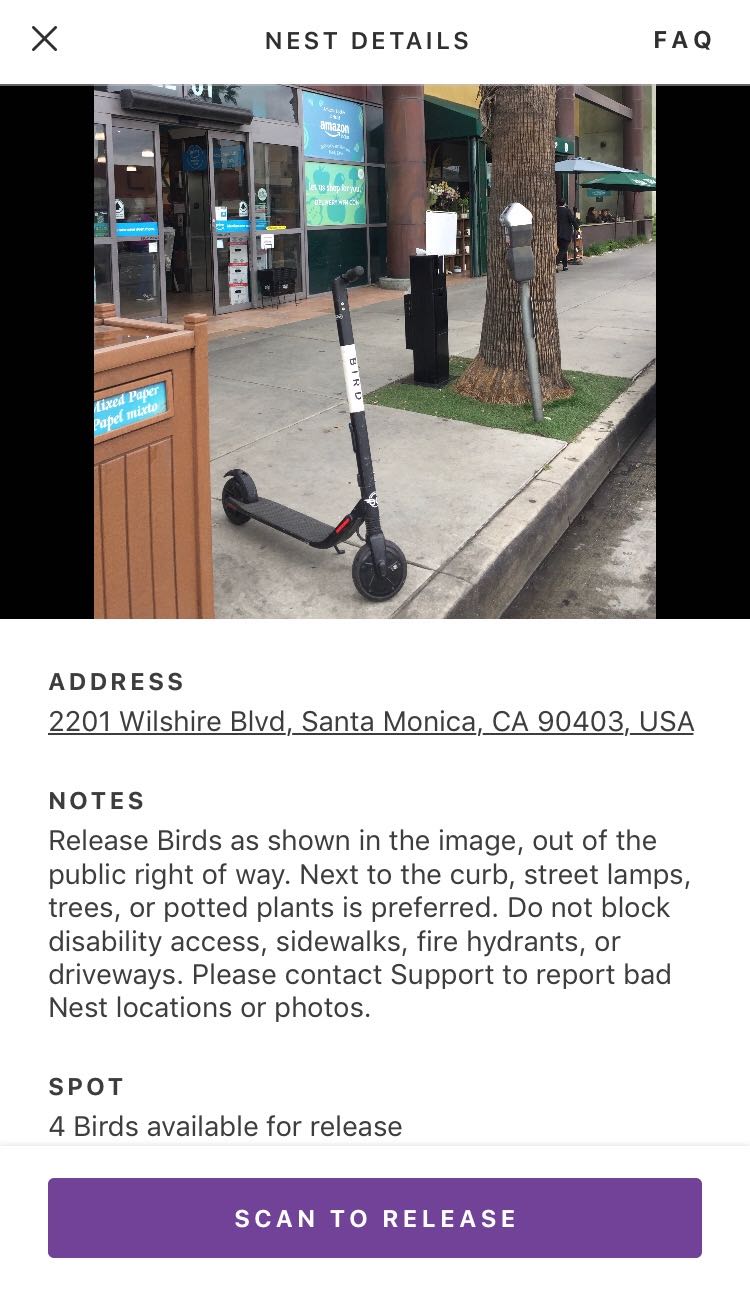 Be sure to remember these rules when releasing vehicles.

Do:

• Avoid releasing vehicles where they can block the public right of way, such as sidewalks, driveways, and entrances.
• Release vehicles close to the curb and perpendicular to the street if the sidewalk is wide enough for pedestrian access.
• If there is not enough space on the curbside, release vehicles parallel to the street to avoid blocking sidewalks.
• Release on dirt as long as the terrain is even and won't cause vehicles to tip over.
• Release on manhole coverings if sidewalks are narrow.
• Park neatly, lining up all vehicles facing the same direction with the handlebars turned to the left.

Don't:

• Block sidewalks or impede the pedestrian right of way.
• Block private ramps, driveways, or parking lots.
• Block fire hydrants.
• Block any disability access areas, including handicap parking and blue curbs.
• Release vehicles on uneven terrain that can cause them to tip over.
• Release vehicles messily.

And one last reminder: Once you've parked your vehicles, step back about 10 to 20 feet away from the nest and take a picture of your vehicles so they can be reviewed. The photo should be vertical to include all vehicles as well as the surrounding environment.

See these articles for more details on nests and releasing vehicles.