How to Charge a Vehicle
To charge a vehicle, you'll need a Bird supplied Power Cord (Pictured below #1) and a Bird supplied Power Supply (Pictured below #2).
Vehicles should not be stored in nor should be plugged into a power source when temperatures are below 32°F (0°C) or above 113°F (45°C)"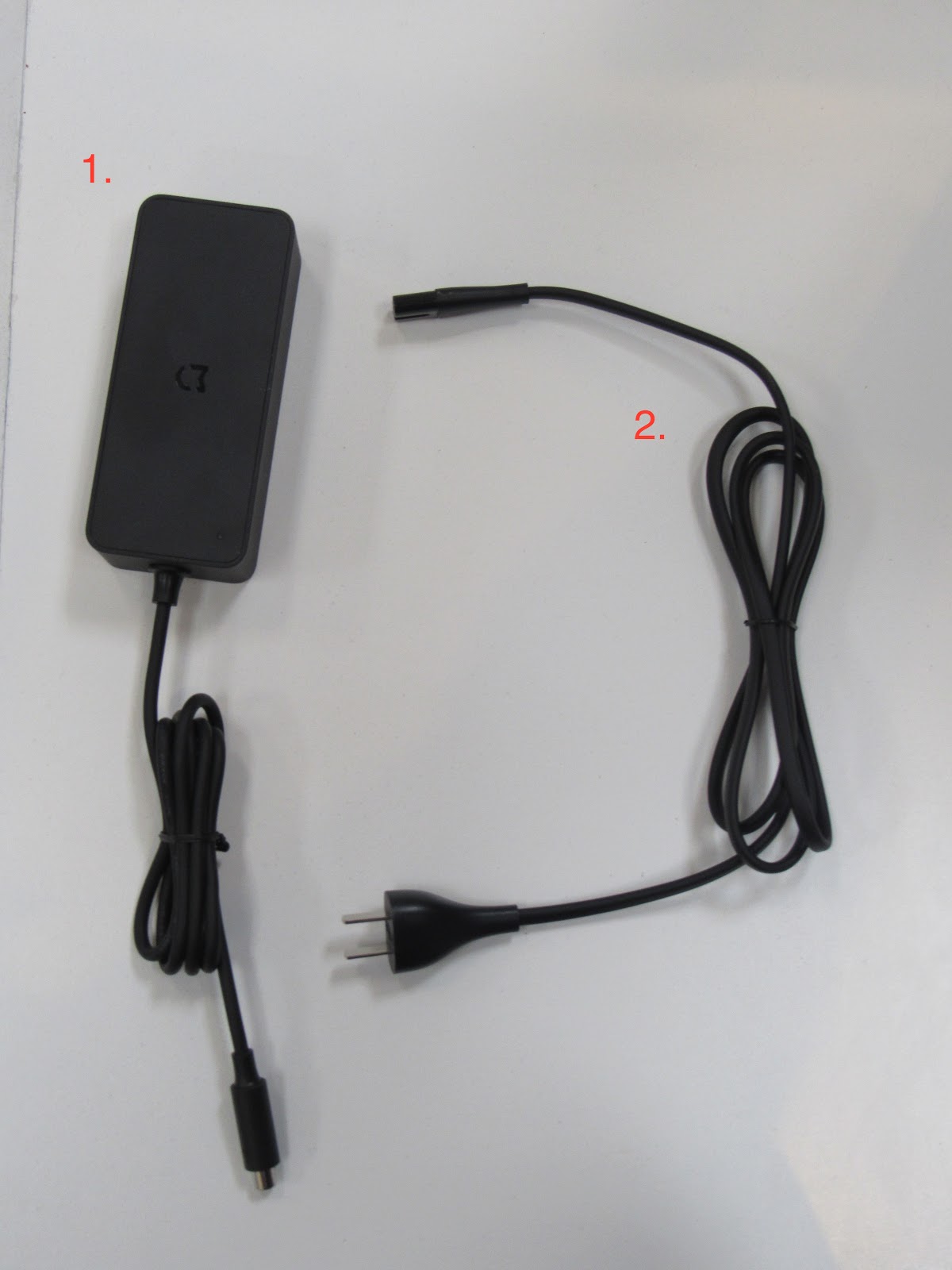 Quick Action
Depending on the model of the vehicle, the charging port is either located at the front of the footboard on the lefthand side or on near the bottom of the neck.
The indication lights on the power supplies show if the vehicle is charged or charging.
You can see the battery percentage of each captive vehicle by going to Menu > MY TASKS
Locating the Charging Port
For some models, the Charging port is located on the front-left of the vehicle's footboard (on the same side as the kickstand). See the images below for help locating the Charging port.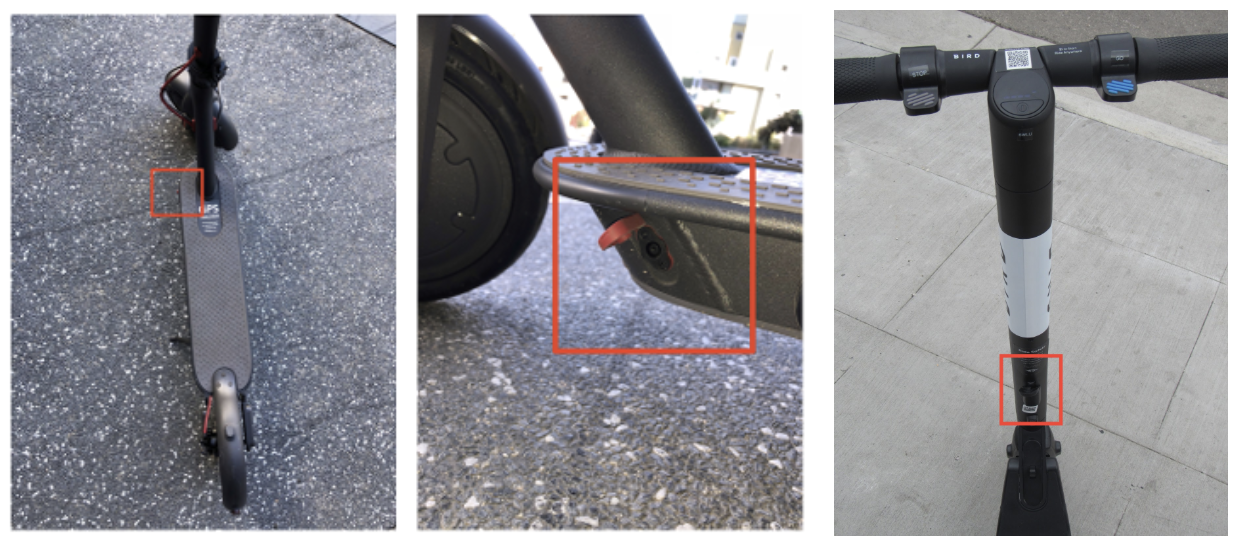 For other models, the charging port is located on the back side of the vertical neck, located about 1/4 of the way up from the front wheel.
To begin charging, plug the Power Cord into a standard outlet and connect to the Power Supply. Next, plug the Power Supply Cable into the vehicle's charging input. Depending on the model, the charging port is either located on the left side of the riding deck towards the front, or on the neck of the vehicle. (pictured below)
Indicator Lights on Power Supply:
Red: A red indicator light, when plugged into the vehicle, means that the vehicle is currently charging.
Green: A green indicator light means your vehicle is fully charged.
Checking Battery Levels
You can find the vehicle's Battery percentage in MY TASKS. For the most accurate information, please ensure:
You are in close proximity to the vehicles

Your phone has good cellular reception

Your phone's Bluetooth is on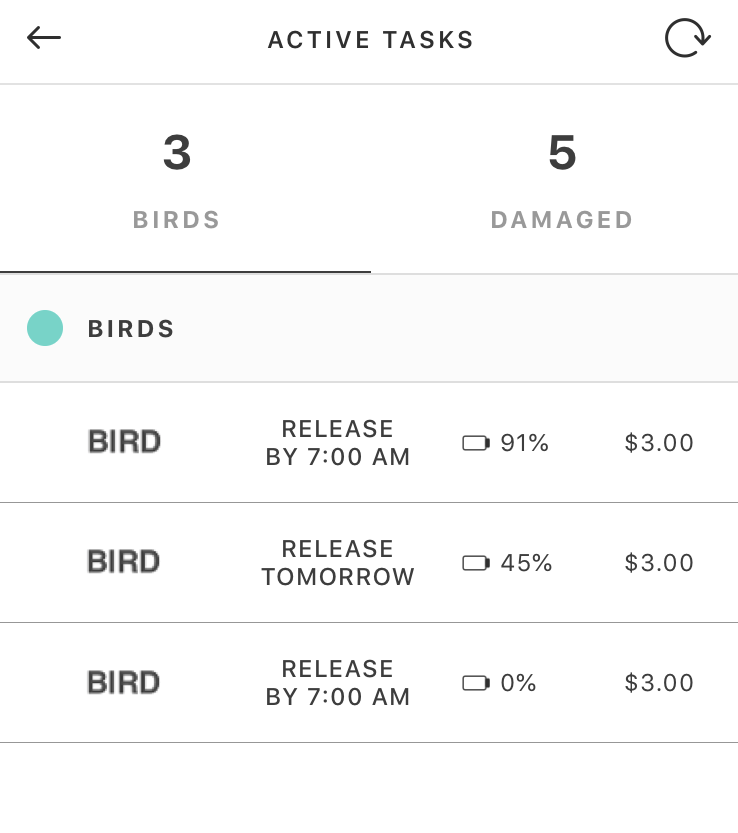 You can refresh the information by swiping down on your list of Birds in MY TASKS.
If for some reason your vehicle is not charging and shows signs of possible damage, please refer to: Handling Damaged Vehciles
Keeping Vehicles Safe While Charging
We highly recommend Chargers to find a safe place within their residence to charge vehicles. The ideal place to charge vehicles is in an enclosed garage on a clean concrete surface. Please avoid charging vehicles on carpeted surfaces.

Safety Requirements
You will be responsible for (or assume the risk of not) having a certified electrician review and approve your location for safely charging vehicles before you start charging. To avoid any fire hazards, do not overload any electrical circuit while charging a vehicle and provide reasonable spacing and ventilation of vehicles while charging to prevent overheating of the vehicle and Power Kits.

Power Supplies
Chargers will have to purchase new power supplies if they are damaged, lost, or stolen.
If you are interested in more power supplies, you can purchase a 3 pack here: Buy Power Supplies